Overview
Legitimated Users with access to the Netcenter AND the TelKom-Wizard can configure different aspects of a telephone:
Installing and Disassembling of Telephone lines
Move an existing Phone to another Room
Add an additional Phone Number for a specific person
Changing what is displayed as caller ID (e.g. the Surname, the Number, the Room etc.) of the device
Define what range the caller has (e.g. internal only, national calls only etc.)

If you do not have access to the netcenter but need some of the above adjustments, please contact your institutes secretary or your institute coordinator for these changes and updates.

Prerequisits
You need an authorized account to access the Netcenter AND the TelKom-Wizard

To access the netcenter you need to be inside the ETH network. Either physically or by using VPN.

Depending on the adjustment you want to make you need some or all information below

The exact room the phone is (or should be) installed. For example ETF/D/106.

The UTP Number the phone is/should be installed. For example UTP54091.

The caller ID which should be used. For example SURNAME or the Room (e.g. ETF/D/106).

The calling-range (internal only, national (CH, D, FR, IT, A, GB, USA, Canada), international (Subject to approval))
The Telephone Wizard
The Telephone Wizard is (even if only available in German) self explaining and easy to understand because it was designed as a guided wizard. Therefore we only show a brief overview.
Starting the Wizard
When you connect to the wizard you should see the screen below.


Is the default selected overview window which shows any current open tasks.
Can be used to create a new order.

These buttons can be used to overview your orders only or the order of your NetSup Group.

Here you would see all open order (None in this screenshot).
Placing a new order
When you click the + Neuer Auftrag Button you will be first asked if you need a confirmation email and then you can click the + Neuer Job Button to create the new request. The following Options are available: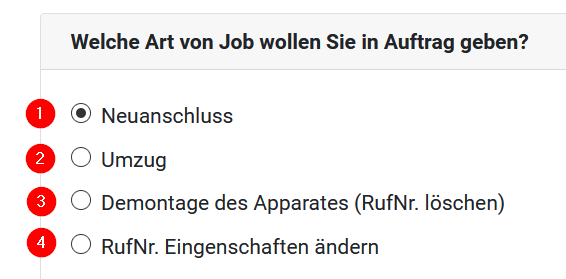 Neuanschluss - Install a new phone

Umzug - Move an existing phone to another location

Demontage des Apparates (RufNr. löschen) - Disassemble the phone and delete the number

RufNr. Eingenschaften ändern - Change properties of the call number (e.g. the displayed name, the calling range etc.)
The order you place will be processes as soon as possible or at the given date. Depending on the setting you choose for the confirmation mail you will (or will not) informed about the current process.
---